AI-assisted Data Analysis
Artificial Intelligence (AI) resources and AI-assisted Data Analysis tools have become indispensable to today's businesses. The 2019 CIO Agenda Survey by Gartner shows that in the last four years, the use of AI has increased by 270%. In the last year alone, the number of organizations that have deployed AI has more than tripled. Companies are beginning to embrace the value AI brings to their processes, making them more efficient by shifting the allocation of mundane tasks to reduce human error, and sorting through data more quickly and more accurately.
So, for starters, the terms are widely used, but what is artificial intelligence?
Artificial Intelligence (AI) uses computer systems to perform tasks that typically involve and require human intelligence, like visual and speech recognition, language translation, and decision-making. The most common way we currently see artificial intelligence being deployed is with automation.
Businesses automate a process to improve how they allocate their labor. Tasks like data entry, emailing, and billing are now automated so that employees can dedicate more time to business operations that allow growth. As machine learning and AI-assisted bookkeeping continues to serve multiple industries and demonstrates significant returns on investment, business owners are more open to automating their processes now more than ever before.
Why is AI becoming so popular with businesses of all sizes?
AI-assisted data analytics tools produce considerable value and benefits. Early AI adopters were bullish about these technologies, and the Deloitte 2017 State of Cognitive Survey showed as many as 83% of companies stated that the use of AI tools had generated 'significant' benefits for them. In the same survey in 2018, Deloitte found that these early adopters were ramping up their AI investments and getting even higher positive returns.
The Role of AI-assisted Data Analysis
When we hear the words machine learning, data science, or artificial intelligence, we often think about huge enterprises. The truth is that whether a company is big or small, it can use data analytics tools to:
Mining Data: AI uses data to improve operational activities, investigations, research, and decision-making. It can search for people interested in a specific topic or find the latest products launched in a certain market.
Reducing Cost: AI can reduce payroll costs and reduce human efforts. It lessens the requirement of resources and adds to accuracy in mundane tasks. It can accelerate sales conversion with a higher response rate and save new customer acquisition costs. Maximizing resources will also save time and improve customer service, sales, and business performance.
Recruiting and Hiring: AI helps identify and recruit the right people by using algorithms that reduce bias. Machine learning also improves the candidate experience, pre-selects qualified candidates, and eliminates the rote portions of the selection process.
Preventing Fraud: Systems using artificial intelligence can monitor, detect, trace, and interrupt identified irregularities. It can expose any transaction involving the transfer of funds, unauthorized account access, and odd usage; all activities that may indicate fraud.
Solving Logistics Problems: Automating the logistics process aides in real-time decision making, creating contingency plans, and making last-minute delivery possible. It also helps with demand forecasting and intelligent warehousing, enabling the ability to use IoT (Internet of Things) to track movement with accuracy.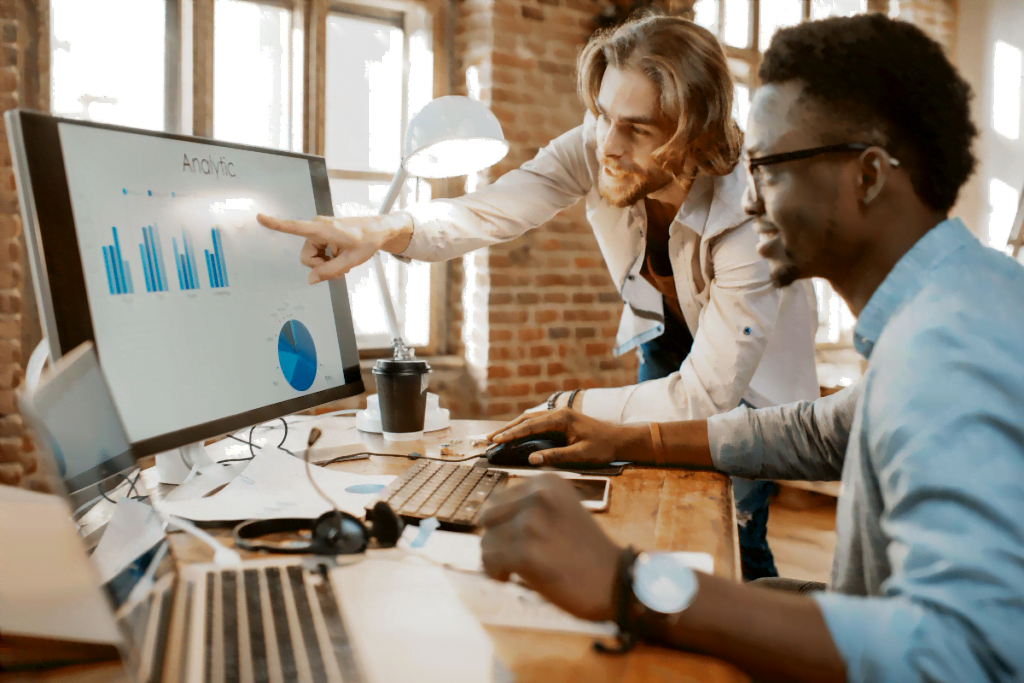 AI-assisted Data Analytics Tools for Small Businesses
MS Excel: Excel is one of the most underrated but widely used tools for small-scale analytics. You can use graphs, pivot tables, and set up tables to analyze data your way. It is an ideal solution for a small business with low data volume.
Qlik Sense: This Business Intelligence tool creates a report by combining all your data sources in one place. It has a cloud-based version where you can create custom apps for your specific business intelligence requirements.
Tableau Public: This tool allows anyone to publish interactive data visualizations (a viz, or multiple vizzes) on the web. These vizzes can be embedded into web pages and blogs or shared through social media and email. The best part? Programming skills are not required to use it. The paid version of the tool can query relational databases, spreadsheets, and cloud databases and convert them into interactive dashboards.
Google Analytics: This analytics platform offers many insights about user traffic on your website. It offers traffic reports that can help a small business:
track user trends
identify the conversion points on the website
check the referrals and the traffic they direct to your website
analyze keywords used by potential buyers to reach your website
Having said all this…
What we have observed is interesting both from a practitioner's and a client's perspective. With all the automation, the people to manage the systems and interpret the data are still vital.
We often see small companies hesitate to adopt new data science technologies because they lack adequate funds and resources. But today, the optimal use of innovative AI tools allow small business owners to save money on things like customer service, sales, and marketing. The key to success with AI applications is to align them with business goals and create a long-term scalable plan.
We Still Need Humans
That's where we come in. Our clients often lack the resources in capital and people to take advantage of new AI-driven technologies; we can manage that for you. Even an intelligent program can't manage itself.
Automation creates opportunities for companies to focus on the day-to-day, streamlining processes and creating efficiencies for employees so the entire organization can target those "big picture" objectives.
One thing AI-assisted data analysis cannot do as well, though, is to interpret that data within the context of your business. This is where human intelligence is hard to beat, making integration a best-of-both-worlds scenario. Bookkeepers more strategically take the data that is generated from an automated collection and analyze financial trends that may affect your business.
And if we think about it, that's what you ideally need your bookkeeper to do. You want to know more about your projections and miscalculations. You want to gain insight into how you can improve your operations and obtain your business goals. That's where we come alongside our clients.
Even with all these new changes in technology and the way organizations approach processes, some of the most important factors in the business world continue to be the same as they have always been. Maintaining a focus on the competitive edge of the organization is still the key to sustainable growth and profitability. Upgrading or changing the available technology within an organization has no meaning if the changes do not create real value.
---
At HireEffect™, we have adopted a People First | Technology Forward™ approach to the way we work with our clients. We make an effort to recommend and implement the right systems for your business to help drive increased efficiency and productivity. It is essential to know what technology will work best for the specific needs and goals of an organization. Through practical research, planning, and execution, our team works with clients across multiple industries to implement new, modernized systems to support their continued success. To find out more, visit https://hireeffect.com/business-services/technology-advisory/.