We talk a lot about recruiting and hiring. It is a vital part of owning and running a company and it is one thing we are very good at. Small businesses have some advantages when it comes to recruiting but building that process is not easy. Perhaps it is time to hire a recruiter.
It may be tempting to try and figure it out on your own, but you don't have to. By working with a recruiter, you partner with someone whose whole job is to find and secure your perfect candidate.
As a small business owner, you have dedicated countless hours to learn your industry inside and out. In the same way you know your industry, recruiters know the ins and outs of employment of hiring. Being able to tap into this knowledge and experience can help save your company money and time in the long run.
Hire a recruiter to develop your hiring process
When you are looking to hire someone, you have a lot to worry about. What position do you need to fill? What skills are you looking for? How many years of experience do you want these candidates to have? How can you determine if they are going to be the right fit for your team and your company?
This isn't even touching on the hiring process itself. When you are a small business owner, you already have enough on your plate. Figuring out a process that works for you takes trial and error. With the help of a recruiter, though, this process can go a lot smoother.
An important thing to remember is that there is a difference between a job description and a job ad. The job description is about what you are looking for, while the ad is about what your potential candidates are looking for. The ad is how you attract the right people. That is one thing we can help you with.
There isn't a one-size-fits-all solution when it comes to recruiting, but that doesn't mean you can't find the solution that works for you. Working with a recruiter can help you cut through a lot of the guesswork that goes into developing a recruiting process.
Our recruiters help you by:
looking at your business to see what skills and experience you need
develop a marketing/branding strategy to attract the right candidates
developing core metrics to track and improve your recruitment process
Keep in mind, recruiters offer different levels of service to different clients depending on their needs. While there may be many similarities in their duties, the approaches will be different. As we mentioned before, it is not a one-size-fits-all kind of thing. Take some time to find the recruiting service that works the best for you. You will not regret it.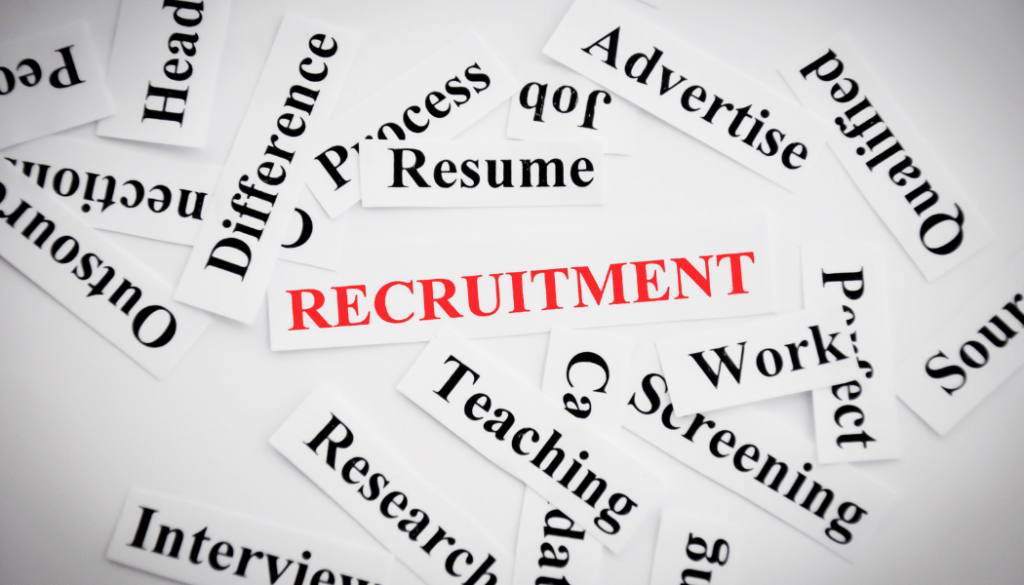 Hire a recruiter to save time (and money)
Finding and hiring new employees can eat up hours of your time if you are trying to do it alone. There is also a lot of room for error that can send you right back to the beginning. That is another place where it helps to have a recruiter.
Choosing the right interview question is not always as easy as it sounds. You know what skills this position will require, but how do you best determine if someone has those skills? A recruiter can help create questions that get to the bottom of what you need to know. They also know the things you legally cannot ask about in an interview, including ones you may not realize.
They take a lot of the load on themselves, working through your list of applicants to narrow down which ones are the best to interview. Then they arrange and perform the first round of interviews, further narrowing down the list. That means less work for you and in the end, you have high quality candidates to choose from.
Heck, some recruiters may already have candidates ready before you post the application. Not everyone they find gets hired for the first job, so some recruiters keep a database of their better-quality candidates.
That database can be a very helpful tool that you would not have access to otherwise. Couple that with their experience, partnering with a good recruiter can be invaluable.
These are just a few of the benefits of hiring a recruiter. If you have worked with one before, you can probably think of plenty of others. Having the help of someone with years of experience finding and hiring quality candidates can save your company a lot of time and money. It can also save you a lot of unneeded stress.
Don't lose sleep trying to build your team. Hire a recruiter to help make sure you find what you need. Or, better yet, hire the team at HireEffect.
How we can help:
We have been helping small businesses with their recruiting and talent acquisition needs since 2007. Our goal is to help you find the right person, for the right position, at the right time. We also provide a variety of other services including HR & talent management that go beyond compliance and beyond our customer's expectations. We can do as little or as much as you need and want. Our ultimate objective is to help your business grow by getting you out of the back office and giving you the freedom to focus on customer-facing, revenue-generating activities, and strategic business growth. Contact us today.