At HireEffect, we offer a variety of services, one of which is bookkeeping. Finances are an important part of any successful business. As the saying goes, you need to know your numbers.
Where is your money going? How does your income compare to your expenses? Are there any products/services you provide that cost more than they make? Are you keeping track of how much money you owe your vendors? What about the money your customers owe you? If you need to hire another employee, can you afford that? Are there any discrepancies in your accounts caused by mis-entering information (or perhaps something more sinister)?
These are just a few of the answers you will want to get from your books. It can be a lot of work to do it right, especially on top of running a business. That is why it helps to hire a bookkeeper.
Starting with the basics
According to Merriam-Webster, a bookkeeper is "a person who records the accounts or transactions of a business." This can include everything from reconciling your daily bank transactions to making sure you are properly tracking your invoices and bills, and so much more.
This typically includes:
Documenting the details of all your business transactions
Developing a chart of accounts to organize those transactions
Putting together financial reports to show you how your business is doing
Double-checking your financial data to make sure everything is accurate

Alerting senior staff members when it isn't
…and tracking payroll data.
Sometimes they have regular meetings with their clients to go over their books. The rest of the time they send the clients any requested documents and pass the rest off to the CPA to prepare for tax season.
These are all important tasks that need to be done. Having a professional take care of your books saves you a lot of time and can possibly save you money.
It sounds great, right?
What if we told you that you could be getting more from your bookkeeper? What if we told you that your bookkeeper could serve as an advisor, helping you understand the story behind your numbers? What if your bookkeeper helped you automate your processes, leaving less room for error and more time for finding ways to grow your business?
If you like the sound of that, then you are in luck. That is what we offer here at HireEffect, and so much more.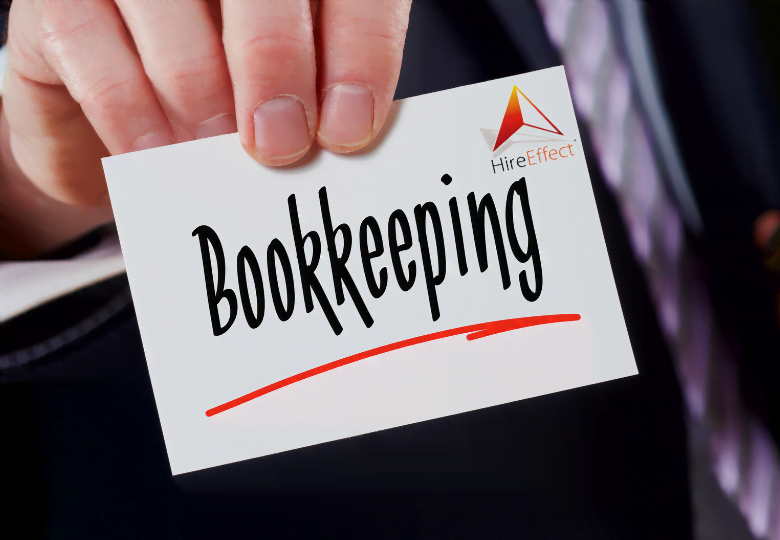 The HireEffect Way
Security
Fundera by Nerdwallet compiled a list of shocking statistics about cyber security and small businesses late last year. Some of the highlights include a 424% increase in cyber breaches for small businesses and the fact that 47% of small businesses don't understand how to protect themselves from such attacks.
As more businesses begin to move their operations online and their data to the cloud, those statistics can be scary. Most bookkeeping software does have its own level of security, but even then, your business can be vulnerable.
We want to make sure our clients are protected, so security is our top priority.
We offer all our clients the same level of security we use for our own business. We understand how important keeping your information secure is to the success of your business. So, we do what we can to ensure that information remains secure.
Technology
We are a technology-forward company, which means we understand the value of using the right tools to automate your processes, saving you time, and making your business more efficient.
What are the right tools, you ask? That depends on what your company needs.
Some companies need a sturdy tool to keep track of their inventory. Other companies may need something to help them take care of their sales tax across several states. Maybe others have more of a focus on hour tracking across various projects, each with their own price per hour.
We work with our clients to assess their needs, as well as the structure of their business and its processes. Using that information, we help them find the right tools for them. The right tool used in the right place can increase your company's efficiency while decreasing the chance of human error. No more worrying about a transposed number messing up your data.
The increased efficiency and decreased error are well worth the price because it gives our bookkeepers more time to focus on the parts of bookkeeping that they love. They learn the ins and outs of your business so they can help you make more sense of your numbers. They can also act as advisors, helping you find ways to save money or perhaps pivot your business to be more profitable.
We know technology is not a one-size-fits-all thing, so we keep our eyes and ears open for new options. That way we can better help you find the right tools for your needs.
Communication & Transparency
Our bookkeepers meet with their clients on a regular basis, either every week or every other week. Not only do we show you what is going on with your finances; we also take the time to help you understand the story behind the numbers.
We also assign two bookkeepers to each client. That way if one person gets sick or goes on vacation, there is someone else to step in and take care of your books, as well as answering any questions that may come up. We keep our communications open so that you are not left in the dark about your books.
At the end of the day, our goal is to be more than your bookkeepers. We want to partner with you to help your business grow into what we all know it can be. Our goal is to help you get out of the back office so you can get back to what matters. We give you the freedom to focus on customer-facing, revenue-generating activities and strategic business growth.
At HireEffect, we provide customized, outsourced solutions for bookkeeping and payroll services that go beyond compliance. In addition, we offer Controller and CFO services as well as franchise bookkeeping services, recruiting and talent acquisition, HR & talent management. We can do as little or as much as you need and want. Our ultimate goal is to help your business grow by getting you out of the back office. Contact us today.