Everyone is looking for a way to be more productive. We want to get more done in less time and not have anything important fall through the cracks. This is especially true for small businesses and individuals who are self-employed. The Forbes Human Resources Council recently published some good advice on creating a productive hybrid work environment.
While it focused primarily on hybrid companies, the advice applies to remote or on-site businesses. It all boils down to having ways to organize and communicate your company's projects and priorities efficiently.
Translation: you need a productivity tool.
Basic productivity tools are computer software programs that allow a user to create specific items quickly and easily as opposed to creating the same items by hand. Some also provide ways to visualize your project data. It makes it easier to see the progress your employees are making in different areas.
At HireEffect, we use Karbon because it is a project manager and a practice manager. We are a small business providing several services to other small businesses. The level of customization allows us to be more efficient and organized as a company and as individuals.
The options are endless when it comes to productivity tools. They all have their approaches to helping you be more productive. All you have to do is figure out which one works best for you and your team. You can use their free trial period to decide if it is the right fit.
What do you want in a productivity tool?
A way to organize projects and to do lists
Who doesn't love a good to-do list? Any tool you look at is going to have a to-do list function of some sort. When you have a clear view of your tasks, it is easier to stay on track.
It goes a step beyond that, though. No more jotting things down on sticky notes or filling up all the space in your planner. Having a digital to-do list makes it easier for you to keep track of all your responsibilities. It is much cleaner than constantly erasing, rewriting, and crossing out your tasks. And it is much harder to lose. Now, it is all in one place.
Some options will allow you to label and tag specific tasks and projects. It helps you organize things by department, priority, client, and more. Being able to rank your tasks can be very helpful if you have trouble deciding what to work on next. A productivity tool can help you sort tasks and projects by due date, priority, or other criteria. Some of those criteria depend on the tool itself and which plan you are using.
If you or your company find yourself with a lot of repeating projects and tasks, you want a productivity tool that lets you create templates. Those templates will take time to set up and finetune, but they will save you a lot of time in the future. This way you don't have to reinvent the wheel every time one of those projects comes up. You can use that template to create a new project and then adjust as needed. All it takes is a few clicks.
A way to keep track of important notes and documentation
Sometimes you have important information that goes with your project. Whether its personal notes, emails from coworkers or clients, or any number of things along those lines. You undoubtedly already have a system to keep things organized both in your inbox and in your computer files. Even so, that can still be a lot to dig through.
Most project management systems have ways you can attach documents and make notes on a task or project. The space may be limited based on which plan you are a part of, but it can be very helpful.
We use Karbon to tag emails to clients and tasks so that when we do the task, we have easy access to that information. It saves a lot of time and gives us many ways to access the information. Thus, you are less likely to lose that information.
Other tools have this capability as well. Redundancy is a larger part of efficiency than some people realize. Not only does this save time for the project's owner, but it makes it easier to transition the project to another colleague.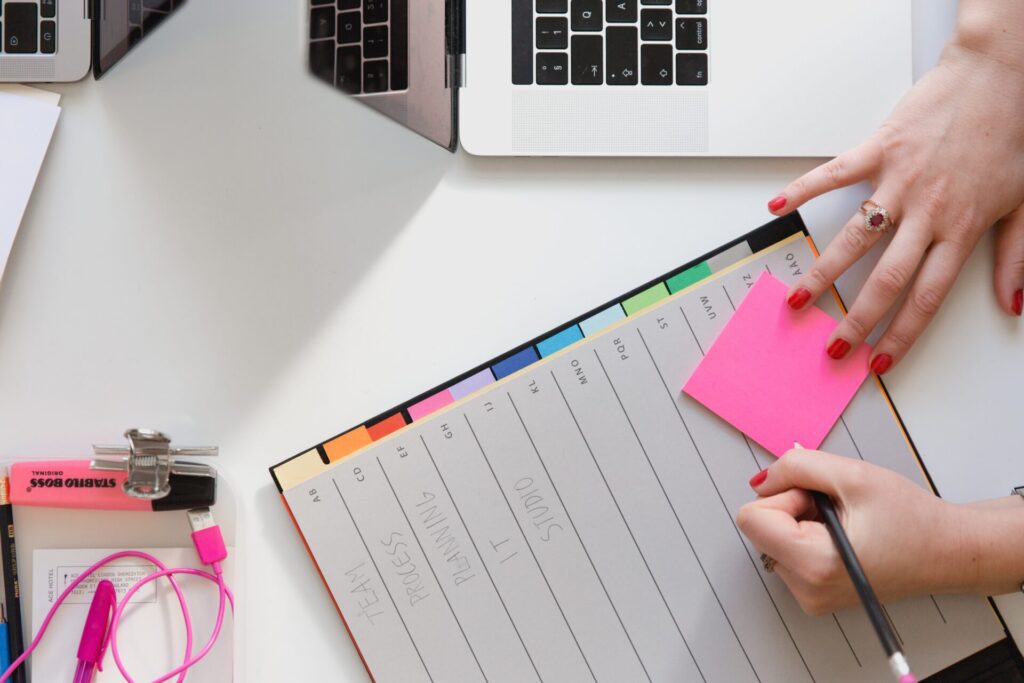 A way to communicate important project information with your team
When working on a project with other people, being able to communicate with your team is vital. Sharing notes, giving updates on things that you need for projects, and so forth. A good productivity tool will have ways to do this, either by client, project, or task. There will be limits on how many members you can have in your team, but you can test out some of the capabilities in a free trial.
It is particularly helpful for projects people have to collaborate on or pass off. Someone will go on vacation or need to take sick time, so another person will have to take over that project. Whatever the reason, it helps to have a productivity tool there to help ensure a smooth transition.
One of the things we love about Karbon is how easy it is to add notes to tasks and documents. It also makes it very easy to have someone take over a project either temporarily or permanently. Having that flexibility means your team can adapt and adjust faster, meaning less time is lost. That means more important work gets done.
A way to track and visualize your metrics
If you are reading this blog post, chances are you are always looking for a way to make your business more efficient. We are all looking for ways to do more things in less time. The first step, though, is to analyze how efficient your current processes are. That means knowing your productivity metrics.
That can be very hard to quantify if you are tracking your tasks through paper and pen. Most productivity tools offer ways to track and visualize your projects at their basic level. They also tend to offer some level of customization. Naturally, you can do more when you pay more, but that may not be necessary.
It all depends on what you need to make things more efficient. Perhaps you have unnecessary tasks that can be removed or simplified, allowing time for other things. Maybe someone on your team needs less on their plate so they can get more done. There could be any number of adjustments you could make to your system, but first, you need to know what is working and what isn't.
We recommend you look at the customization options when it comes to how you view your data. Some tools can track time, estimated budget, completion rate, and more. They also have ways to display the information visually, which can provide a better overall view of the productivity of your business. It can show you the parts of your systems that are inefficient and are slowing your team down.
We are a technology-forward company because we know how much of an impact the right programs can have on your business. You can save time by using a productivity tool to manage your projects and tasks. That means more time to focus on growing your business, which is what we are all about.
Spend less time in the back office and more time on what matters.