Wow, what a year 2020 was. So many of us are beyond motivated by the simple fact that 2020 is over.
As a business owner, to truly have 2020 hindsight, you need to start the new year fresh knowing that your bookkeeping records are in order. We have heard that the best indicator of future performance is past performance. If that's true, then to forecast or budget effectively for 2021, you need to know what and how you did in 2020. For most of us 2020 was a blur, so relying on memory is probably not the best idea. You'll want real details, accurate numbers, and proof of transactions.
You already know the importance of good record-keeping.
And we know that you are beyond excited to sort through your shoe boxes, cup holders, baggies, and file folders looking for all the receipts and invoices you saved up throughout the year.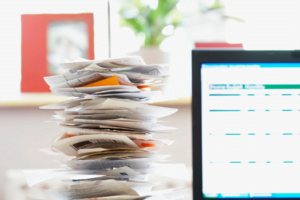 Oh no? Just us?
Here is how some simple automation can help you when closing the book(s) on 2020 and make tax-time a breeze! In fact, it's so easy, and so useful, that we give it to all our bookkeeping clients.
Introducing Receipt Bank.
Receipt Bank is a paperless bookkeeping platform, connecting accountants, bookkeepers, and small businesses with no paper and zero data entry.
You didn't open your business to hoard crumpled, stained, and worn bits of paper and spend hours typing them into QuickBooks. Receipt Bank allows you to either snap a photo with your smart phone, or forward an email, and move on with your day. It can even "go fish" and pull the data you need into their digital dashboard. Using OCR (Optical Character Recognition) and applying AI/machine learning, the app scans the record, extracts the appropriate details, learns the rules for proper coding, and matches the record with the right transaction in your accounting software when the bank transaction comes through.
You'll never leave money on the table for missed expenses again!
With your expenses and income entered, properly coded, and matched at the individual transaction level, you can easily reconcile your accounts and run your trial balance before you even send your accounting file to your tax pro – ultimately saving you time and money!
Are you working on closing your books on 2020? Do you want to implement some automation tools to make things a bit easier? Contact us today for a free consultation.
We're beyond happy to help!