Where Talent + Technology = Business Transformation
For more than 13 years, HireEffect™ has been helping organizations and businesses across a variety of different industries grow and expand their operations. Our company was originally created with the goal of helping small founder-led and family-owned businesses experience the benefits of enterprise-level recruitment strategies. With the understanding that small business owners and local entrepreneurs are not experts at hiring or managing talent, we decided to create a solution. By focusing on hiring talent based on company culture and the core values of an organization instead of simply matching up the skills listed on paper, we are proud to be a valuable asset for many organizations in our community.
Our Purpose
(why we exist):
As a Conscious Business, at HireEffect™, our purpose is to boost the U.S. economy one small business at a time. By helping small founder-led and family owned businesses thrive and grow, we help create jobs in the communities we serve.
Our Way
(how we do it):
Our People First | Technology Forward™ approach allows us – with each individual's needs as our compass – to combine bookkeeping, recruiting and business consulting expertise with cloud-based technology to reduce administrative headaches, drive process efficiency and effectiveness, and unlock growth potential for our clients.
Our Impact
(the higher effect we have):
When business owners get out of the back-office and back in to what they started their business for in the first place, they can focus their time and talents on pursuing their vision and making a positive difference in our society.
Our Conscious Business Promise
(our values):
People First. Technology Forward™.
We know that simply adding technology to a broken process only makes a more complicated broken process. With our clients' needs as our North Star, we work together to build customized solutions for your business.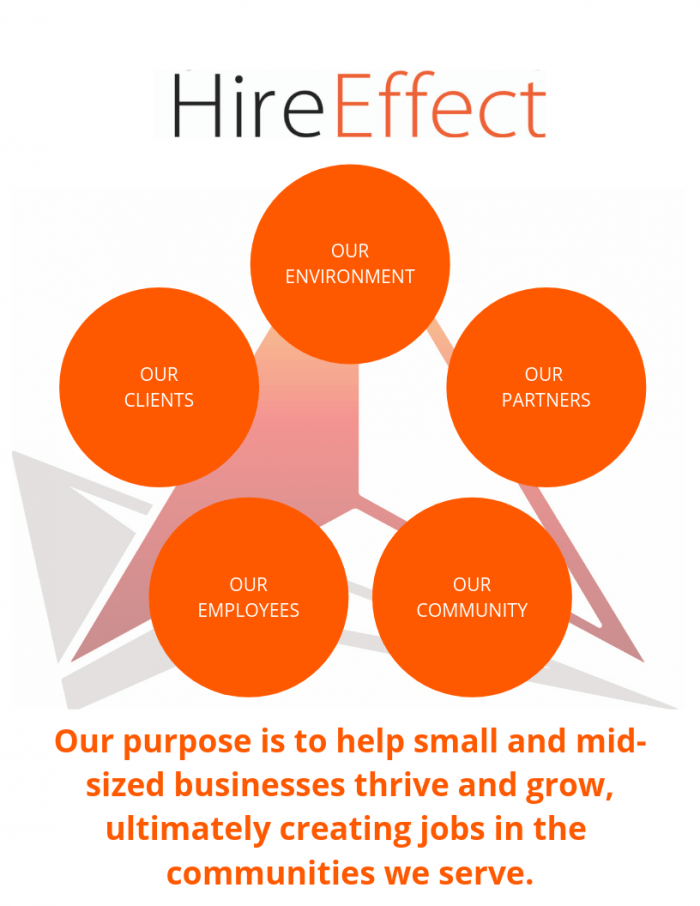 The Power of Technology
As a group that firmly believes in the value of technology and efficient automation, we have adopted a Technology Forward approach in all aspects of our business. That doesn't mean that we emphasize the use of a single technology or a specific vendor. Instead, we recognize the value of finding the right technology to meet the needs of our clients. One of our core values is serving the needs and meeting the expectations of our clients. 
By taking a look at the current state of an organization, we are able to find places where processes and systems can be streamlined through the application of tools and technology to simplify the daily routines of our clients and give them back the time they need to focus on the more important aspects of their business. We allow our clients to escape the confinement of the back-office administrative work and make it possible to return to the work that helped them start their business to begin with.
Saving Our Clients Time and Money
At HireEffect™, we are proud to say that the services we offer are the culmination of decades of hands-on experience in a variety of industries. What this means for our clients is that we can provide them with the skills, knowledge, and business experience they need to feel confident moving forward. With the complex challenges of the world today, it just doesn't make sense for one person, especially a business owner, to teach themselves how to do everything on their own. This applies to everything from repairing an automobile to designing a house or even managing financial records for a company. Working with someone who already has the knowledge and skills you need to handle a challenge the most efficient way is what makes the most sense.
Our company was founded on the belief that by helping small businesses take back their time and focus their attention on what they do best, it can lead to increased growth and profitability for everyone involved. By offering our knowledge and skills to our clients, we are happy to become a vital part of their day to day business operations so that they can shift their focus back towards their clients and their organization instead of feeling trapped trying to learn and understand an entirely different field. Time is money after all, and by handling the needs of our clients in a sensible amount of time, we are able to save them the money and energy they would spend while struggling to make sense of it for themselves.
Our Focus is on the People 
In today's economy, it is getting harder and harder to generate growth for a business organically. At HireEffect™, our mission is to provide workforce advisory services that set new standards for the industry. This translates into happier employees who can maintain increased productivity levels along with a higher rate of retention for our clients. By focusing on a number of factors that drive employee productivity, we can provide services aimed at helping our clients maximize profitability. To help our clients feel confident about our strategies, we are always ready to provide a full series of analytic tools, metrics, and KPIs that can give you the detailed information you need to drive growth and maximize profitability.
Want to know what we can do for you?